"Letting go means to come to the realization that some people are a part of your history, but not a part of your destiny."  (Steve Maraboli)
The horse is a partner in your process — there, step by step, hoofprint in footprint.
How the EGCMethod® Works
The Process
The EGCMethod® employs Gestalt methodology. Gestalt is simply the concept of addressing the whole individual. Gestalt coaching seeks to bring your awareness to the things your body, mind and spirit are seeking. YOU KNOW, deep inside, the answers to what you need, right here, right now. Gestalt — aided by myself and, at times, a horse — guide you through the discovery process.
The result is a true inner healing followed by empowerment. 
96% of People Would Do it Again
In a recent study of the EGCMethod conducted independently by the Xanthus Center (Tom and Jaclyn Manzione) in Colorado, 96% of respondents indicated they would participate in more than one EGCMethod session.
93% saw a more hopeful future after their session with a horse.
What to expect in an Equine Gestalt Coaching Session
Dress appropriately ...
Wear clothing suitable to the outdoors, the time of year and the ever changing Colorado weather. Always, no matter the season or weather, wear closed toed shoes..
The session begins outside the horse pen
The horse is an integral part of the EGCMethod however, we will actually begin our session outside of the pen. Don't worry, if you are nervous around horses, you won't be asked to do something that adds to your anxiety by going into the pen with the horse. The horse's reactions and energy are powerful and profound and easily carry through the corral panels if you are most comfortable outside of the pen..
Your safety and privacy ARE my number one concern
I believe in keeping everything that happens during our session in complete confidentiality between you, myself and my equine partner. Please know I also have your physical, emotional and spiritual safety at the forefront of all I do.
Phone/virtual coaching is part of the process
Although some of the most impactful pieces of your process take place in the pen with the horse, the process will continue after you leave the ranch. Phone coaching can be hugely beneficial as follow-up to your horse session or prior to the horse session as it can provide greater clarity.
About the EGCMethod®
The EGCMethod® is different than any other type of equine coaching you may have experienced or seen. In EGCM the horse is an active partner in the coaching and healing process. With their combined wisdom and intuition, the EGCM coach and their equine partner will guide you through your experience. Working together, they will help you isolate the unfinished business that is causing you pain or blocking your path to success and happiness. Through experiential interaction the horse will assist you in clearing the energy that has been holding you back or keeping you from your best self.
The Equine Gestalt Coaching Method® was developed by Melisa Pearce, a core founder since 1989, of the horse-human healing movement. The experiential nature of the method involves the horse as an active partner with the coach in the client's exploratory process. The integrative approach of the equine's interaction combined with positive coaching, somatic awareness guidance and Gestalt methodology, assists the client in examining their life and choices made with a focus on designing a positive future.
No horse experience is necessary to participate in an EGCM coaching session and you will not ride the horse — although, if you are a rider, you may find that the EGCM experience deepens the connection with your horses.
Co-facilitators | Coaches | Healers
Meet the Herd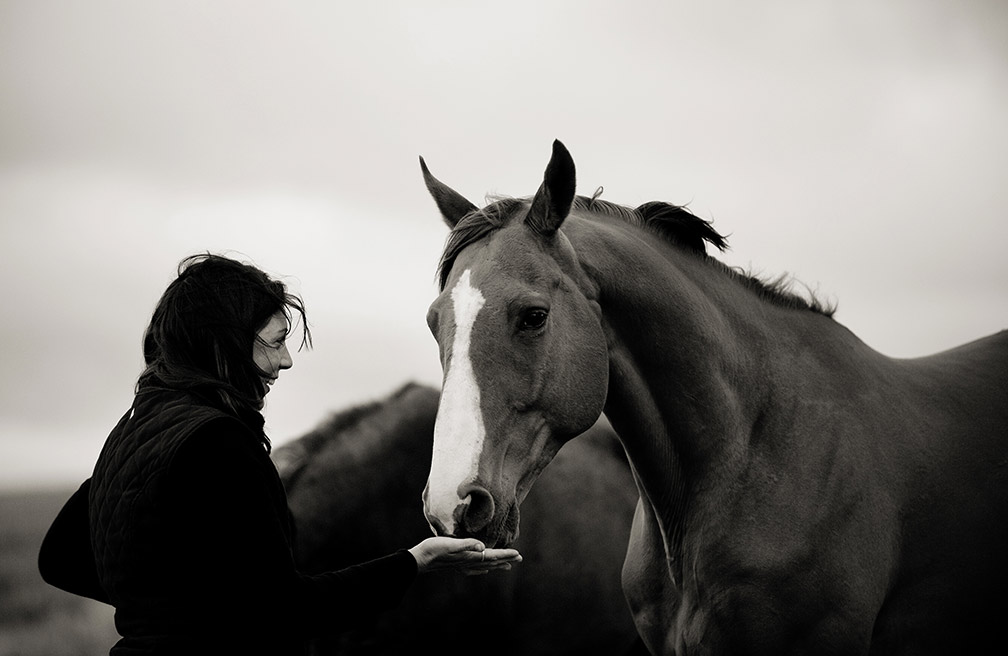 High Stakes Gamble "Kade"
"Kade" is a 15 year old, off the track of Monmouth, New Jersey.  He came to me 11 years ago as a four year old needing restarting.  My job was to restart him and then sell him for a Thoroughbred rescue group off the east coast.  Needless to say, I wouldn't sell him.  "Kade" was the single toughest restart off the track I've had.  He was explosive if I pushed him too far and was, when I first started working with him, impossible to read.  We spent hours just being in each others presence.  That alone was sometimes more pressure than he could handle.
Over the years, "Kade" became my go to horse.  I ponied many horses from his back, gathered countless cattle, and covered hundreds of miles in the saddle with him.  In the fall of 2016 "Kade" was stumbling quite a bit.  As we moved cow/calf pairs from our pasture to fall pasture about ten miles northeast of here, he fell to his knees countless times.  I was pretty pissed with him until I discovered he couldn't feel his front legs.  After six months of vet visits we determined that an old track injury in his neck had manifested itself and caused nerve damage to his forelimbs.  He's not safe to ride.  I was sick, heart broken and lost without him to rely on.
"Kade"  is the color of a metallic copper penny and is the guardian of my herd and the guardian of my heart.  He carried me through crisis and unfolded his wings to carry me away from it all when my fragile soul couldn't bear the strain it was under.  What greater gift could I possibly offer him in return than to partner with him in this work where his talents can truly shine?
Latin Moon Bug "Moon"
We call this dappled, metallic buckskin mare, "Moon."  She was a "freebie" from behind the Sam's Club in Colorado Springs!  Lol!  Who knew she would be the multimillion dollar mare she is!?!  When I was told about this sassy mare by a rescue that knew I was hunting that needle in a hay stack kids horse for my daughter, she said, "The mare has a broken leg."  I rolled my eyes, laughed and asked, "Is that what makes her a perfect kids horse?  She's three legged!?!"  I needed to put down a pony I couldn't heal that we'd adopted for my baby girl.  My hope was to find her a new partner before I helped the pony cross over.  We went to look at the little mare with a busted leg.  She had a tendon injury!  I knew I could heal her up and prayed she would take good care of my precious little girl.
I euthanized three horses early one morning while the kids were at preschool.  I had worked with them for several years and their track injuries were more than could be healed.  The best I could offer them at that point was the opportunity to die with dignity with me at their head.  It was awful.  Tears still well up when I think about how much my heart broke that day.  Rebecca knew that her pony was crossing over that day too and I took her up to the top of the hill where her pony lay in the spring sun when she got home from school.  My heart was in miniscule sized pieces watching that little girl's heart fall apart.  Moon found us up there and stood over the two of us as I held Rebecca tightly, shouldering her sobs.  It was as if we were the foal and this mare was guarding us as we sat there crying.
I've watched Moon and Rebecca grow together.  Moon has seen Rebecca through the heart wrenching loss of her pony, divorce and the continued abuse that she suffers at the hands of her father.  The first place she goes when she returns home after the weekend at her father's, is the pasture.  Moon leaches all the "yuck" from Rebecca, loving her, supporting her and being that ever present breath of fresh air.
Vitrify "Soraya"
"Soraya" which means star, is a mare that came to me later in her life.  She was moved from the east coast to the west coast by the woman who had adopted her off the track.  When the woman could no longer keep her, I received a call from the east coast Thoroughbred rescue that I'd worked with for so many years.  The mare doesn't ship well and since we're halfway here in Colorado they wanted to know if I'd take her, put a month or two of training on her and then sell her for them here.  I agreed and she came in 2014.  I like to do a vet exam on these hard knockers off the track and "Soraya" was no different.  We discovered that her stifles were shot.  We tried injections and a few other things and bottom line, years on the track had taken its toll on her body.  She needed to be a pasture/companion horse for the duration of her life.
When I delivered the news to the rescue group they requested that I have someone pinfire the joints!  I was hot!  Not only is it a barbaric procedure, it's not always successful and the mare was in her late teens at the time.    To make a long story less long, I told the group to pound sand and adopted the mare so that I knew she'd be safe.
Now, 21, the mare, although somewhat aloof still, is happy, content and her eyes shine bright with life.  She has worked hard most of her life, stroking man's ego.Full of wisdom, she offers clients the opportunity to look deep into her reflective chocolatey eyes for the answers they seek.
In the Money "Cricket"
"Cricket" was orphaned at 2 days old (his mom's name was "Jimminey").  As a two year old he caught his foot in his pipe perimeter fencing and ripped off half of the hoof.  As a four year old he caught his rib cage on a gate bolt and laid his side wide open missing puncturing his lung by an eighth of an inch.  It's fair to say that he spent the better portion of his first 10 years of life being attended to at Littleton Large Animal Hospital.  Once healed and deemed sound he went to a hunter/jumper trainer where he flunked out of school and found himself at a cross roads.  When I met "Cricket" I was asked to crawl up on him and offer an assessment.  If I thought I could help him, he would go home with me.  Well, I'm not sure it was love at first sight so much as it was challenge at first sight!  Lol!  That son of a bitch bucked, reared and bit me in one
well
rehearsed move as I swung my leg over him!  He was pissed at the world and made no bones about it!  He'd been so shut down and broken by the trainer that had him that he had lost all forward movement.  I smiled and said I'd work with him for 30 days!  As I spent time just being with "Cricket" he started to slowly come out of his shell.  I began to see the horse he could be.
No one wanted him. He's big (17 hands and every bit 1200 pounds), athletic and potentially dangerous.  I saw a horse that deserved a break in his life.  I knew I could help him and so he became mine in 2015.  "Cricket" is a tough horse.  I've worked hard to allow him to safely express his opinion and show him safety, security, and unconditional love.  The horse you see today is happy, playful and very much loved.  His scar on his side speaks to the scars on this horse's heart on the inside.  He knows the depth of despair and loss and he is a powerful healer in this work as he continues to come out of his shell.
Visigoth "Liam"
"Liam" is a young gelding I picked up in 2017.  He was trained for the track but never raced.  He's the cleanest slate I've laid hands on in years!  I went to Texas to pick him up.  When I arrived at this lady's dilapidated facility he was a rack of bones.  His feet were a mess, he was a gangly mover and reactive.  As I handed over the cash and pulled out onto the highway to make the two hour haul to my in-laws place for the night, I spent the whole trip thinking I should turn around and take him back.  I actually texted my husband along the 12 hour haul home apologizing for the wasteful way I'd spent his hard earned cash.  I feared my husband might divorce me when I got home and unloaded my prize for him to see!
Here we are a year later and "Liam" is maturing into a handsome, humorous fellow!  You cannot have a bad day when "Liam" is around!  I believe he'll take to this work like a duck to water.  He'll be six this year and though he's bounced around a bit before coming here, he's not known the suffering at the hands of humans that my other horses have.  He will be the one to bring a smile to someone's face that hasn't smiled in a long time … he's a special one all in his own right and I'm so very grateful I didn't listen to my head as it screamed to turn around and take him back.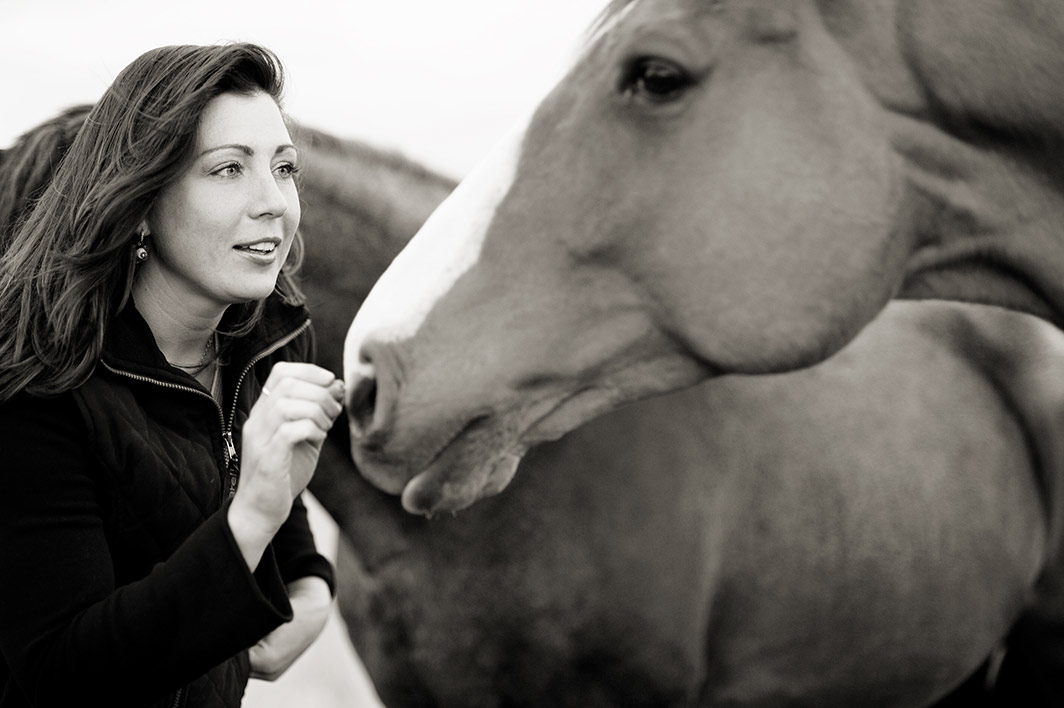 About Me
Why I Chose Horses & My Credentials to be Your Coach
I am a graduate of Colorado State University with a B.S. in Equine Science (I'm sure you realize the B.S. stands for bullshit degree in horses, not Bachelor of Science!).  I have trained horses professionally for well over 20 years.  I coached numerous youth and amateurs to the world show level.  I have ridden and trained everything from Saddlebreds, Arabs and National Show Horses to AQHA and APHA all around horses.  I have ridden jumpers, sport horses, cutters and rope horses!  For the past 13 years I have rehabbed and restarted high risk Thoroughbreds off the track. I have started more colts than I could ever count and continue developing my skills as a perpetual student of the horse.
Aside from my own experience surviving divorcing a covert narcissist, I am becoming an expert in divorce recovery and narcissism.
I am a graduate of the Touched by a Horse Certification Program where I spent two intensive years learning how to blend Gestalt Coaching along with my life experience, insight and horses. This experience has provided me with a powerful toolbox to meet you where you are in your process and see you through the steps to your freedom and empowerment.